Other Automotive Parts

Environmental concerns have led the vehicle manufacturers to require that virtually all engine and vehicle parts be more durable and offer higher performance under operating conditions that are becoming more demanding with each new design. To meet these ever increasing demands, Riken has been making full use of its in-house technologies and, for valve train products in particular, has realized a variety of achievements in such areas as weight reduction and improvements in material wear resistance.
One good example of Riken technology at work is our ability to produce as-cast hollow camshafts. The as-cast hollow area can be made with a large range of diameters and shapes. This capability allows Riken to provide its customers with very light camshafts that help to significantly reduce weight in the engine valve train area.
The need for more fuel efficient, safe and comfortable vehicles in response to environmental concerns is driving design changes in other vehicle areas such as the transmission, air conditioning and power steering systems. At Riken, we are responding to our customers' changing needs by developing a wide range of products that can meet all new requirements in each area of the vehicle.
The brake, suspension and steering systems of vehicles require many critical safety components to ensure stability, drivability and comfort. Riken makes extensive use of the latest CAD/CAM technology to design, manufacture and supply cast iron parts in a variety of shapes to meet our customers' demands. Characterized by complex shapes and thin walled designs, these parts are making a substantial contribution to reducing overall vehicle weight.
Engine Parts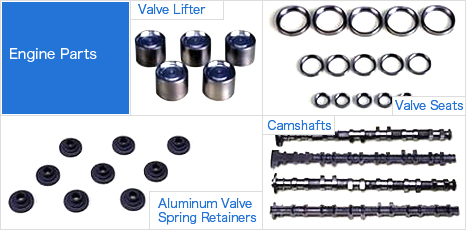 Camshafts
Pistons
Valve Seats Valve Lifters
Valve Spring Retainers
Tappets & Rocker Arms
Crankshafts
Others
Transmission Parts

Seal Rings
Differential Cases
Pinion Shafts
Others
Drive and Chassis Parts

Steering Knuckles
Damper Forks
Brake Calipers
Pressure Plates
Lower Arms
Other
Other Automotive Parts

Vanes for Air Compressors
Shoes and Shoe Discs for Air Conditioning Systems
Vanes for Power Steering Systems
Sliders for Power Steering Systems
Other