Riken Technology
"Riken Technology"
Riken Group is the technology oriented manufacturer with the strong competence in "Cutting-edge research and development", "Advanced product technology" and "Innovative engineering".
Since its establishment, Riken has continuously created new values and technical solutions responding to rapidly changing needs of our customers.
With such 3 competence, Riken will continue to offer advanced and eco-friendly products.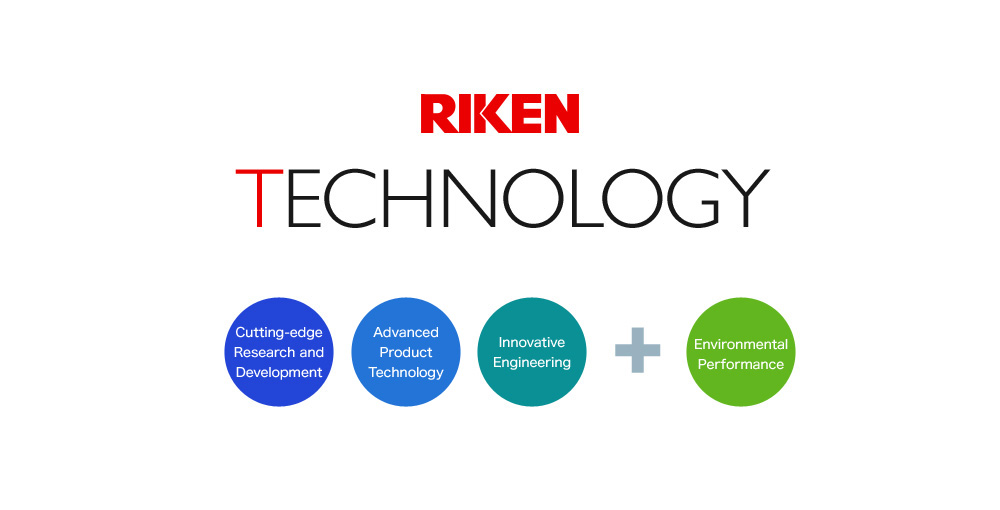 Cutting-edge research & development is the fruit of our engineers' continuous pursuit of new technology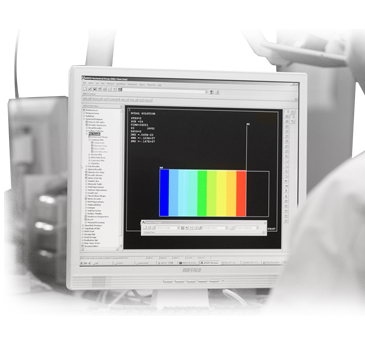 Riken originated from Japan's largest research organization known as "The Institute of Physical and Chemical Research" or "Rikagaku Kenkyusho". A new research, a new invention is the source of the "Riken Technology" and the pursuit of new technology is our spirit that we have inherited from our predecessors.
We have an excellent research & development system, equipped with the advanced evaluation and analysis technology, which enable us to offer high design quality products to our customers. We are also striving to develop next-generation products in cooperation with outside Research Institutions, including universities.
Advanced product technology that offers the best suited specifications for each customer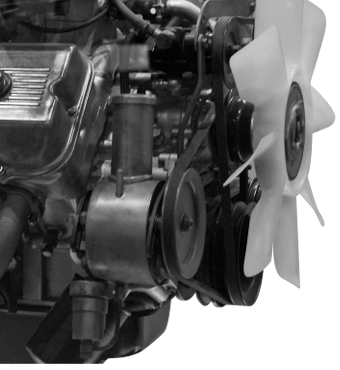 Taking piston ring for example, the required performance greatly differs according to each customer and each engine's shape to assemble.
Riken is always responding to such requirements by offering our products with the best suited specification proposal by utilizing the latest technology.
Besides automotive industry, Riken is a prominent thermal engineering product manufacturer and is offering from heating element itself to assembled heat furnace that are contributing to high-tech industry.
In addition, as a pipe fitting manufacturer, Riken offers a unique products design which contributes to manpower saving in the construction site.
Riken exerts a strong presence in many fields throughout the society.
Innovative engineering that maintains Japans top-class production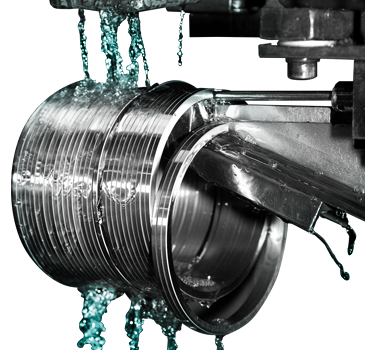 Rikagaku Kogyo Co., Ltd, the roots of this company, manufactured piston ring for the first time in Japan. Since then, Riken has been pursuing the best in quality, cost and delivery. Riken has devoted itself to optimization of manufacturing processes and to in-house development of original tools and equipment. Therefore, we are able to establish the one and only manufacturing system that can produce ultra precise products with higher quality and efficiency.
Ever since its foundation, Riken's driving force has been the innovative engineering, cultivated by the continuous efforts towards in house development.
Environmental performance to the world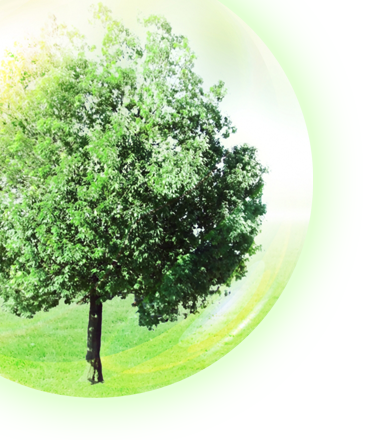 Responding to the global warming, eco-friendly products are highly required.
With its technology, Riken offers automotive parts that contribute to better fuel efficiency and less emission.
Applying the material technology, the machining technology and the latest environmental technology cultivated by long experience in manufacturing automotive parts, we can also offer the high performance heating elements and the energy efficient industrial furnace that contributes to the prevention to the environment.
We are continuously improving our manufacturing system to become more environmentally friendly, such as realization of new and rationalized processes and development of new surface treatments and materials that requires no harmful substances.
With our one and only technology, we will protect the environment and contribute to the society.
Technology contributing to improvement of fuel efficiency of automobile
Case1 Piston ring with low friction technology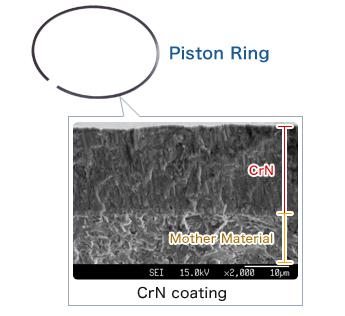 Piston ring is a key engine component. It is attached to piston groove and determines engine performance.
Low friction is a key performance of piston ring. Riken offers the best suited surface treatment for each piston ring in order to match the required performance.
Riken has wide variety of surface treatment technologies, including Cr plating, Gas Nitriding, CrN coating, DLC coating, Plastic coating and Spray coating.
Especially, demand for CrN coating by vacuum evaporation method and DLC coating is considerably expanding for a better friction performance, which contribute to the improvement of fuel efficiency.
Features of CrN coating

1. High anti-scuffing performance
2. High wear resistance & corrosion resistance
3. Low friction coefficient
4. Thick film (more than 50µm)
Case2 Sealing ring with low friction and low leakage technology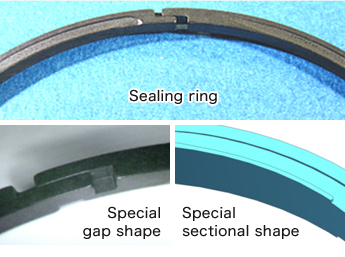 Transmission is an indispensable device for automobile to transmit the power from engine to wheels.
Our sealing ring is used for the transmission to maintain its hydraulic pressure in operation.
Riken's sealing ring for AT/CVT contributes to the improvement of the transmission efficiency and can minimize the oil leakage to a zero level and reduce friction loss to the utmost with its original gap and sectional shape.
Features of AT/CVT sealing ring for low leakage and low friction

1. Low leakage from extremely low to high temperature
2. Low leakage from extremely low to high pressure
3. Low leakage in rotation and reciprocation behavior
4. Low friction brought by special shape
Case3 Camshaft with lightweighting technology (as-cast hollow casting and thin wall casting)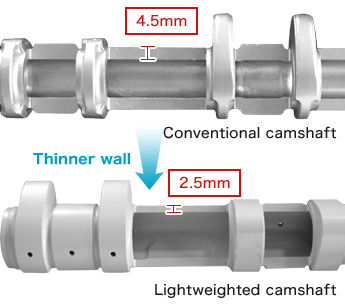 Cutaway lightweighted camshaft
Camshaft is also an essential component of engine and can contribute to longer mileage by reducing its weight.
Riken, as a pioneer of camshaft manufacturer, is capable of iron camshaft manufacturing from material to machined products on their own and responds to customer demand with its shape design and manufacturing technology.
We have a good reputation for the "lightweighted, hollowed and thin-walled camshaft"in its advanced thin wall casting technology which is developed through the evolution of as-cast hollow casting technology.
Features of Lightweighted camshaft

1. Chilled camshaft and surface hardened camshaft
2. Lighteweighted by hollowed design with partially variable diameters
3. Applied to engines for automobile and motorcycle
Case4 Suspension and steering parts with lightweighting technology (shape design)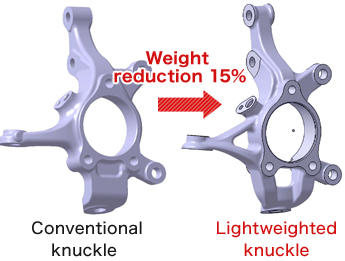 Riken's casting products contributes to the lightweighting of suspension and steering parts for automobile and construction machinery parts.
For steering knuckle and brake housing, Riken offers high strength and high stiffness material which has superior elongation and impact value and is further developing more lightweighted product, as light as aluminum alloy, by optimizing structure design technology.
The critical safety parts affecting safety, steerability and riding comfortablity are required by customers for considerably high reliance. Riken will keep meeting such carmakers' requirements with its original technology.
Features of "high strength and high stiffness material ""lightweighted knuckle"""

1. Highly strengthened in as-cast condition
2. Thin walled and maintained high strength and high stiffness
3. Superior impact value to ordinary iron casting products
4. Lightweighted by the combination of high strength material and optimized structure design (reduced weight 15% - 20% to the current model)
Case5 Precision component with lightwaghting technology (high function material)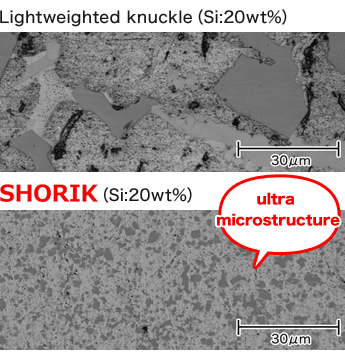 In order to preserve the environment, needs of lightweighting technology are increasing to meet the emission regulation of each country and improve the fuel efficiency of automobile to reduce the CO2 emission.
Aluminum is attracting industrial world's attention as a lightweighting material.
Riken continuted to research the lightweighting material that performed properly under the severe condition and developed the high function aluminum alloy "SHORIK" containing large amount of Si and transition metals, which was not realized before.
SHORIK is currently used for the vanes of car compressor and is expected to be applied to the other parts for automobiles and motorcycles.
Features of SHORIK

1. Lightweighting to 1/3 of ordinary iron
2. Higher strength than duralumin used for airplane
3. High stiffness that general aluminum alloy cannot achieve
4. Adjustable thermal expansion by material composition
Case6 Turbo sealing ring with heat resistance technology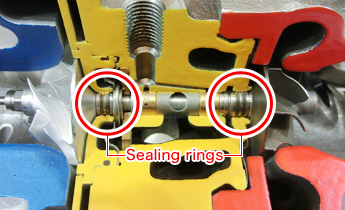 Cutaway turbocharger housing and sealing rings
Downsizing technology of engine is globally required for the improvement of fuel efficiency.
In many cases, such downsized engine adopted "turbocharger" to supplement its power and to support fuel efficiency.
Riken's superior sealing ring plays significant role as a turbocharger parts and is supplying on a global basis.
The condition of the inside of the turbocharger is so severe that the temperature reaches about 1,000℃ and the turbine wheels rotate around more than 100 thousand per minute.
The alloy material of Riken's turbo sealing ring has superior wear resistance property and heat resistance property. Therefore, our sealing ring can support the shaft of turbocharger and work smoothly even under the severe condition.
Features of "Turbo sealing ring"

1. Durable material in sliding motion with extreme speed
2. Shape design to reduce oil leakage and gas leakage to the utmost
3. High precision manufacturing technology
4. Cost performance
Technology contributing to energy-saving in high-tech and electronics industry
Case7 PYROMAX with high function material technology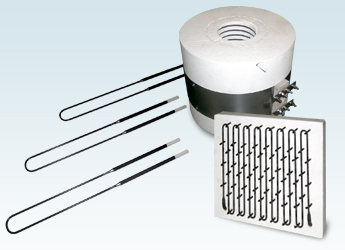 PYROMAX-SUPER
The heating element "PYROMAX series" is being used for industrial furnaces and electric resistance furnaces and contributing to various industrial fields such as steel industry, automobile industry and electronics industry.
Riken developed the superior heating element with high thermal resistance by utilizing our original design and manufacturing technology caltivated through more than 50 years of experience.
Riken's PYROMAX series has good reputation from our customers. Riken, as the leading manufacturer of heating element, will continue to contribute to the development of heating technology in various industrial fields.
Features of "PYROMAX-SUPER"

1. Excellent heat resistance by pre-formed oxidation layer of good adhesion
2. Well controlled microstructure and composition realize the superior distortion resistance
3. Less impurities and no pollutant generation
4. Broad range of materials, shapes and modules for high efficiency heating
Technology contributing to rationalization of piping work
Case8 Pipe fitting with product design technology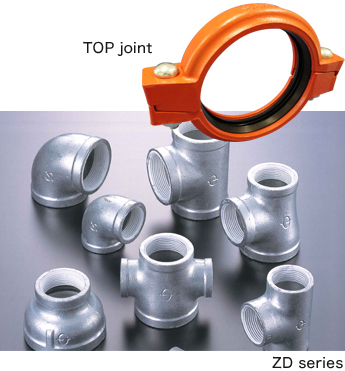 Riken's pipe fittings are widely recognized in the name of "TOP Brand" and won high confidence from the customers.
Riken has various type of pipe fitting products and their qualities are certified.
Our original products such as "TOP Joint" and "ZD Series" are contributing to the improvement of the efficiency of piping work with their easy-to-assemble designs which require no skilled worker.
Features of TOP joint

1. Safe and easy to assemble
2. Steady and strong sealing performance
3. Wide product lineup (fixing type, expandable type, various surface treatment)
Features of ZD series

1. No sealing material required
2. No jammed screw
3. Prevention of sealing material leakage
4. Light torque and easy screwing
5. Rust preventive screw for storage