Technologies that Assure Ring Function
C-7 Serving a Broad Range of Applications
Engines come in a variety of shapes and sizes depending on the application. There are applications requiring enormous engine output as well as applications needing engines that can be hand carried. A piston ring designer must take the specific nature of the particular application into account when deciding upon ring characteristics.
Piston Ring Size
Piston rings are manufactured in all sizes from finger ring size to larger than 1 meter in diameter. Used for lawn & garden equipment and marine engines respectively, these sizes represent the extreme ends of the piston ring size range. The greatest numbers of rings are produced for automobile and light truck engines with diameter sizes ranging from 70mm to 100mm in diameter.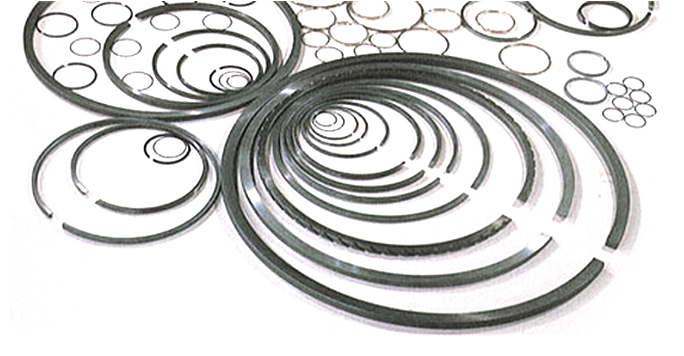 Piston Ring Cross-Sectional Shapes
The cross-sectional shape of the ring will vary and is determined by such factors as which ring it is (i.e., top, second, oil), which functions it has to perform, what material and/or surface coating is called for and by the particular engine application.

Working Face Profile
The working or running face of the upper and lower compression rings will show one of the following configurations:

Gap Shape
The ring gap creates a possible gas leakage path. In certain applications, special gap shapes are designed to minimize the gap clearance in order to decreases unwanted gas leakage.

Surface Treatments
A number of different surface treatments are applied, depending upon the engine's particular application and the design concept of the power cylinder system. It must be emphasized that the inter-related power system components, the cylinder, the piston, and the piston rings, must all be optimized for the specific application and bring similar qualities of high performance and long service life.
Typical Surface Treatment Tchnology for Piston Ring
Type of Surface Treatment
Application Applicable Engine
Surface treatment
Symbol
Hardness(HmV)
Rust
prevention
used
together
with
rust
preventives
Initial-
break-
in
Wearresis-
tance
Side
wear
prevention
Side
stick
prevention
Aluminum
alloy
cylinder
Inner
grove
wear
prevention
Gasoline
engine
Diesel
engines
Unleaded
Leaded
Electro-plating
Hard chromium plating (Sinding faces)
Cr
800~1100
●
●
●
●
●
●
Side chromium plating
800~1100
●
●
●
●
Circumferential chromium plating
800~1100
●
●
●
Copper plating
Cu
90~620
●
●
Nitriding
Gas Nitriding
GN
700<
●
●
●
●
●
●
Deposition
Ion plating
IP
850<
●
●
●
●
Composite electro-plating
Nickel base
CPN
800~1100
●
●
●
●
●
Spraying
Metal spraying
RF
700<
●
●
●
Ceramic spraying
RF
700<
●
●
●
Spray coating
Tough-RIK
●
●
●
Compound processing
Phosphoric zing film
RPK-10
-
●
●
●
●
RPK-11
-
●
●
●
●
RPK-12
-
●
●
●
Phosphoric manganese film
RPK-25
-
●
●
●
●
●
RPK-26
-
●
●
●
●
●
RPK-27
-
●
●
●
●
●
RPK-28
-
●
●
●
●
●
Ferox treatment
RPK-30
-
●
●
●
Electro-plating+Reverse current treatment
QB chromium plating
QBC
800~1100
●
●
●
●