Global Expansion of Riken Group
Global Network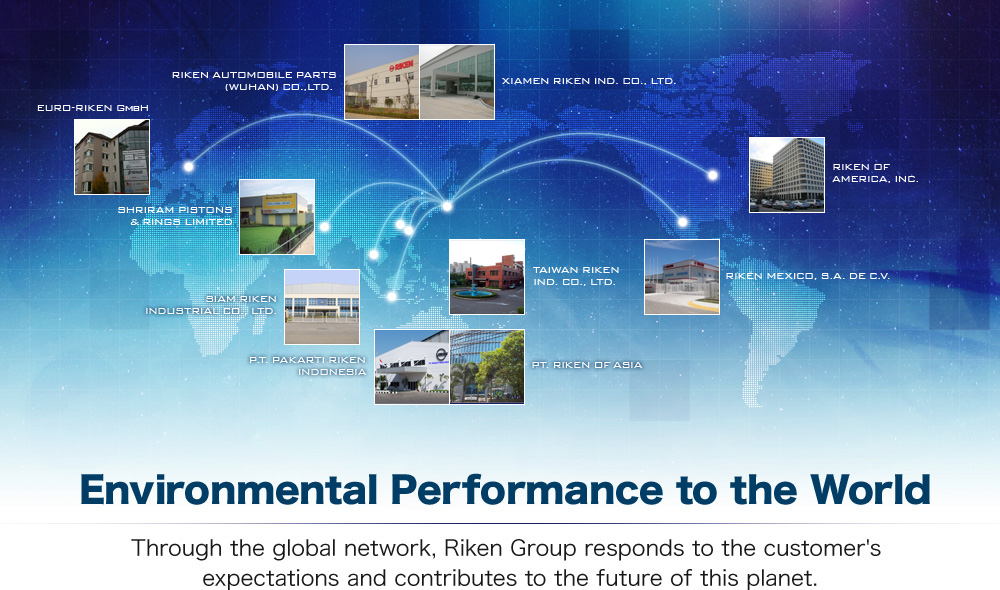 Outlook on Riken's Global Expansion Through the Figures
The Market Share of Our Main Product - Piston Ring
Piston ring is an essential and key engine component and requires extremely high technology in its manufacturing.
In the field of automotive industry, Riken is supplying to all of the Japanese automotive manufacturers and the market share of piston ring in Japan is over 50%.
Riken is also supplying piston rings to the customers in the various industrial fields, such as motorcycle, marine and industrial machinery and so on.
We are aiming to become the No.1 piston ring manufacturer in the world.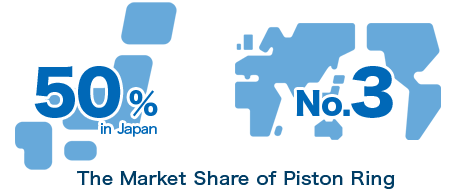 92 Years Since the First Domestic Manufacturing of Piston Ring
In 1926, Dr. Keikichi Ebihara of the Ookochi Research Laboratory of the Institute of Physical and Chemical Research invented the manufacturing method for piston rings. The following year, Rikagaku Kogyo (the roots of the Riken Corporation) commercialized the piston ring by obtaining the license of the patented invention. Riken is the first manufacturer of piston ring in Japan and holds the leading position as a top piston ring manufacturer to date.

Supplying to More Than 300 Customers
Riken is supplying various products to various customers, such as automotive, marine and industrial machinery manufacturers, on a global basis. This fact proves that our technology is superior and reliable.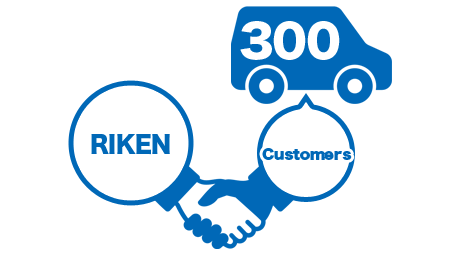 Over 9,000 Types of Products
In addition to automobile components, such as piston ring, sealing ring, precision components, and other casting products, we have a wide variety of high-functional products such as pipe fitting, thermal engineering products and EMC products. We can offer products that meet our customer's requirement worldwide.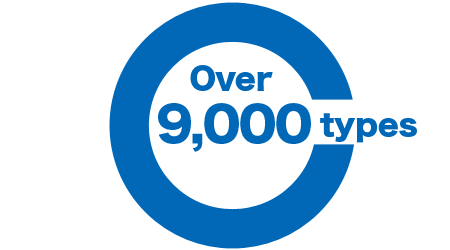 From 22mm to 980mm Sized Piston Rings
Riken, as a leading manufacturer of piston ring for internal combustion engines, can offer piston rings in a wide range of size, from a minimum size of 22mm used for the engines of radio-controlled model plane and 33mm for lawn mower engines, up to 980mm used for huge vessel engines of more than 15 meters high. Although the required performance is greatly variable according to its usage condition, we can flexibly meet any requirements with our prominent technology based on the original know how.